Wakura Onsen (和倉温泉?) is a hot spring (onsen) resort located on the edge of Nanao Bay at the base of the Noto Peninsula in Nanao, Ishikawa, Japan. It one of several
well-known, high-end
onsen
resorts in Japan.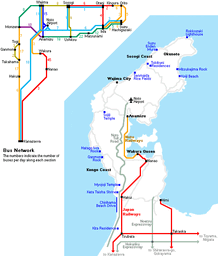 Wakura Onsen has existed as a resort for 1,200 years; it was originally discovered by a traveling priest who noticed an injured crane bathing its wing in the warm water.
Getting Around
Edit
Wakura Onsen is approximately five minutes by car from Wakura Onsen Station on the JR West Nanao Line and Wakura IC on the Nanaota-Tsuruhama Bypass (National Route 249).
There are no JETs who live on Notojima Island or in Wakura Onsen. The closest JETs live in Nanao city.
Museums and Culture
Edit
Annual Noto Yosakoi Festival 能登よさこい祭
Every year on the first weekend in June. The style of
yosakoi
, an energetic style of Japanese dan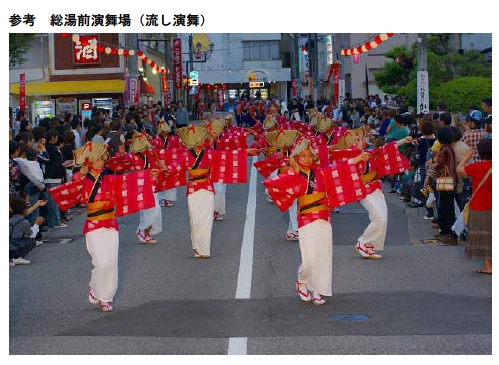 ce, that is performed in this festival originated in Kochi. (There is also Soran Yosakoi, which originated in Hokkaido.) The yosakoi of the Noto has its own flavor and its very own dance–the Noto Waccha のとわっちゃ.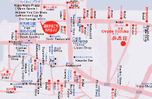 In 2010 there were 49 teams representing primarily Ishikawa but also Fukui, Toyama, Niigata, Osaka, Hyogo, Greater Tokyo, and Aichi. All teams perform their original dances and show off their original costumes. The groups vary by age and sex–there are women-only teams, men-only teams (the infamous Wakura Onsen men's 'Hot-man' team, for example), and mixed-sex teams; some teams include children; others are composed entirely of young people; there is also a team in which the average age is over 70.
Blog post from Ishikawa JET Blog: http://ishikawajet.wordpress.com/2010/06/01/14th-annual-noto-yosakoi-festival/
Outdoor Activities
Edit
Wakura Onsen Foot Spa (Foot Onsen) 湯っ足りパーク
Free and open during the day 7 days a week. Take your own towel and remove shoes before entering. The view of Noto Bay is beautiful.
Website (in Japanese): http://www.wakura.or.jp/p149.html
Eating and Drinking
Edit
There are a multitude of restaurants and hotels that contain restaurants along the main road (248) through Wakura Onsen.
There is a Lawsons and Circle K convenience store along the main road in (248) Wakura Onsen.
Accommodation
Edit
The center of Wakura Onsen is the ryokan Kagaya, a 20-floor hotel capable of holding approximately 1,300 guests.
Other hotels and ryokan in the vicinity include:
Entertainment
Edit
Most people who visit Wakura Onsen do so to stay in one of the many 5-star resorts. Most resorts have karaoke rooms, party rooms etc and that is where the entertainment takes place.
There are no cinemas, shopping centres etc in Wakura Onsen.
The ATMs at Circle K and Lawson take most Japanese bank cards.
Medical Care
Edit
Wakura Onsen is only a few minutes' drive from Noto General Hospital (website in Japanese: http://www.noto-hospital.nanao.ishikawa.jp/) or a little further to Keijyu General Hospital in Nanao (website in Japanese: http://www.keiju.co.jp/ English: http://www.keiju.co.jp/data2/e-home.htm)
Groups and Clubs

Edit
Useful links
Edit
Wakura Onsen Offical Tourism Website (in Japanese): http://www.wakura.or.jp/
Community content is available under
CC-BY-SA
unless otherwise noted.